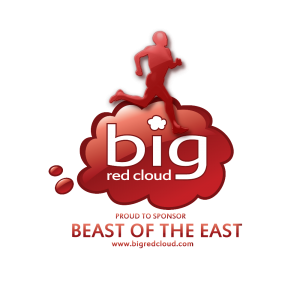 Big Red Cloud Announces Sponsorship of Beast of the East
Big Red Cloud is sponsoring the 2014 Beast of the East triathlon for the fourth year in succession. The 2014 Beast of the East will take place on September 13th and the 300 participants will face a new challenge as Wicklow Triathlon Club, the race organisers, have planned a new and challenging route in the environs of Glandalough National Park.
Dublin, August 26th 2014 – Big Red Cloud is renewing its sponsorship of one of Ireland's most challenging triathlons – the aptly titled Beast of the East. Now in its 7th season, the Beast of the East has cemented its position on the triathlon calendar in Ireland and is one of the most eagerly anticipated events of its kind in the country.
Limited to 300 participants, and always oversubscribed, the Beast of the East is held in the glorious confines of Glengalough National Park. This year, on a new course, the swim will take place in the upper lake in Glendalough, followed by a 47km cycle through the Wicklow hills and the ubiquitous 10km 'finishing' run.
For Big Red Cloud we are delighted to be associated with this event. Our CEO Marc O'Dywer is a triple Ironman finisher and is a big triathlon fan. Indeed, our marketing manager, Michael O'Brien, completed the Beast of the East back in 2009.
"The Wicklow Triathlon Club and its members give so much of their time to put on this amazing event and in recognition of this effort it's a real pleasure for Big Red Cloud to come on board as lead sponsor," said Marc O'Dwyer, CEO at Big Red Cloud. "This is our fourth straight year as sponsor and we look forward to meeting all the participants and the community of volunteers on the new Beast of the East course on September 13th."
ENDS
About Big Red Cloud
Big Red Cloud manufactures and distributes simple and easy to use online accounting software at an affordable price. Designed with the latest cloud technology, it is safe, secure and very user friendly.
Big Red Cloud is a great example of the best of what the cloud has to offer. We believe in giving exceptional value by including unlimited transactions, unlimited reports, unlimited users and unlimited support to enable smart modern enterprises get on with doing what they do best which is to sell their products or services.
Big Red Cloud: Michael O'Brien, Marketing Manager
Tel: 01 204 8300 Email: michael@bigredcloud.com/