Picture this. You are in an Apprentice type competition with the task of increasing the brand performance and associated sales of a range of similar products.
Your team is given a choice of 32 products to pitch to in order to win their approval and you are told the top three topped over 55% of the ratings. Which ones would your team pitch to?
You are also told that if you fail in your pitch you will be automatically allocated those products from the bottom of the list.
Human nature informs us that the top three would be the most appealing as they already have high approval ratings so your job is all the more easier.
But what if those products on the bottom of the list, with a little bit of work, could dramatically increase their ratings? So much so, in fact, that they outstrip the gains you'd make with the top three thereby guaranteeing your team victory.
Picture this.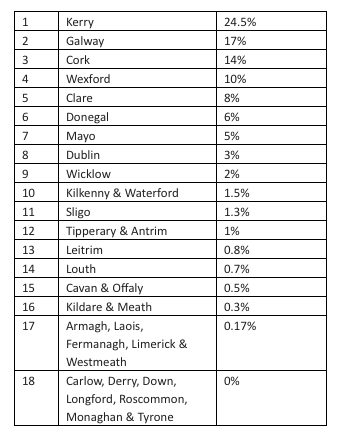 This is the list from Myhome.ie of the favourite domestic holiday destinations of Irish holiday makers, as voted by subscribers to their newsletter. Swap products for counties and take a step back and figure out what your team would do to improve the brand engagement for any of the counties on the list. In effect, managing a county brand in Ireland.
One swallow doesn't make a summer but a survey population size of over 5,000 is big enough to draw some firm conclusions on. One in four of voters (24.5%) selected the 'Kingdom' as their favourite county for a break with Galway claiming second place on 17% and Cork taking third on 14%.
Carlow, Derry, Down, Longford, Roscommon, Monaghan and Tryone received no votes and Armagh, Laois, Fermanagh, Limerick, Westmeath barely merited a mention with less than .17%.
As newly appointed product managers and with a degree of understanding and knowledge about our products (counties) there is no doubt that there will be plenty of ideas on ways to improve the brand engagement for any number of the counties on the lower middle to the end of the list.
How do you feel about the counties with low scores, especially if one of those counties is your place of birth and residence. This author is from Tipperary and was taken aback by the lowly 1% the Premier County scored.
Picture this:
Can you produce a list like this and place your small business on it. Don't get too hung up on the scores, use approximate percentages. Just try and get in the zone as a brand manager that has to figure out how their brand is going to perform against the competition. What can you do? What would you do?
The Apprentice is an interesting study in human nature and one of it's endearing traits is that year after year, teams make the same mistakes. Mistakes that make you want to shout at the TV because had they watched reruns of the previous year's show then they would be well prepared to take on the challenges at hand.
Brand management and brand building is the same. You don't have to reinvent the wheel because we've produced some handy guides on branding that will help you to overcome those small business marketing challenges.
Your business, your brand, it's a challenge for sure and no doubt it's an emotional mix. One you're probably proud of. Check out our branding guides.
You're hired!