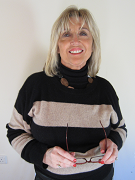 Recently Big Red Cloud spoke to Carmel Downey to talk about getting started in business, challenges, the recession and Big Red Cloud. Carmel is the Managing Director of Village Interiors, a business that has been based in Douglas Co. Cork for over a decade. The company specialises in the interior decorating industry and it has faced all the ups and downs that have affected the majority of Irish Business's in recent years.
Carmel has been a Big Red Cloud client since September 2012, and she has participated in the software training sessions offered by our support team ,on how to use our cloud based accountancy software in the most effective way possible. Here are Carmel's small business insights.
Big Red Cloud:
What was the reason you started your own business?
Carmel Downey:
I was working within the family business, and I just decided to go out on my own and take responsibility for my own future.
Big Red Cloud:
What was the biggest challenge in growing your business to where it is now?
CD:
It would have been in the early days of my business, during the boom when I got the opportunity to do doing the interior design on very upmarket high rise apartments.
BRC:
Did the recession have an impact on your operation?
CD:
It has had a phenomenal impact on our business as we operated in the middle to high end of the interior decorating market, 50% of our sales would have been through builders, so when the builders stopped we effectively lost 50% of our business, and then the other 50% that was left reduced by around a third!
BRC
What, to you, is the most important part of running a business?
CD:
An ability to deal with the public is a gift, because you could not run a consumer driven business unless you have that, I suppose attention to paperwork would be very important as well, those are the two things that I think are the most important.
BRC:
Would you have any advice for other people running SME's?
CD:
If you are self-employed everyone you do work with is effectively your boss, so you need a lot of dedication to it. I also work in my business all day every day and then most nights I am also working from home so it never really stops.

When you are working for yourself it is much more than a 9-5 job, I think most self-employed people would agree that they put a lot more hours of work in than people that are just employees.
BRC:
What are your plans and aspirations for the future of your business?
CD:
Going forward personally I don't really have any major plans, as I am now in the latter stages of my working life and am planning on taking a step back from running the business, I hope my Daughter will step in and she will take it on to the next level.
BRC:
How has Big Red Cloud helped you run your business?
CD:
It has been a big help actually, I do find it handy being able to access my books from any computer, before I only had accounts software on my laptop but now I can log into my books and I can work on them from the office, from home or anywhere, so that's really made a difference, it's a great package.