---
What is Google+?
Google+, launched in 2011, is a a free to use social network software platform operated by Google which brings the Google search engine ecosystem together into one giant social network. This feature rich software platform enables small businesses to connect with existing and potential customers.
At it's simplest level, Google+ helps you to create circles of people or companies related to your business or industry and share relevant resources with them. Going to the next level you can grow your online influence by creating and sharing quality content with others. This is critically important as it will improve rankings of your pages in Google.
Facebook, Twitter and LinkedIn and most recently Instagram and Pinterest may be the social media software platforms that garner most media attention but Google+ is hot on their heels when it comes to the actual number of registered users. The number of active Google+ users is reported at over 300 million.
Some interesting points of note about Google+:  
There are 2.2 Billion Google+ profiles worldwide.
There is 343 Million active users on Google+ making it the second most actively used social network.
70% of Brands have a Google+ account.
There is a 33% growth rate for Google+ each year.
28% of the people who use Google+ are between the ages of 15-34.
Users on average spend 7 minutes on the site per month.
You have to have a Google+ account to have an account on YouTube and Gmail.
24% of Internet users in Ireland have a Google+ Account.
Google UK reported 12.6 million registered users as of Q42013.
Google+ The Six in One Account: By setting up a Google+ account you also create a Gmail, Chrome, YouTube, Google Maps and Google Drive account. One of the big advantages of signing up for a Google+ account is that this rich array of software tools is free to access and free to use.
Google Spreadsheets, one of the many free productivity tools within Google Drive, enables small business owners to avoid the initial cost of accounting software, especially if they only have a few transactions per month. However, after a certain point it becomes unfeasible and possibly detrimental to your business to continue with software such as Google Spreadsheets. For more information on why and when your business should move up to accounting software, check out our 'Alternatives to Spreadsheets Guide.'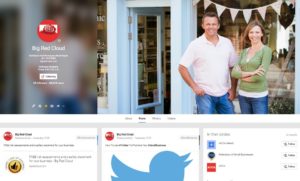 How do I get started on Google+?
It's really simple, just follow these five steps:
Register an account: By following the link you can create your Google+ account.
Making your brand logo your profile picture is a fundamental starting point as you can see from the Big Red Cloud example above. Please use a good quality image as it's of paramount importance for any business to present itself in the best possible way.
Adding Photos and Videos to your account will greatly boost your profiles appearance in the eyes of the user. The greater the engagement with your followers the better for your brand and business overall.
Under the about section of your business you have the opportunity to engage with your audience about the business at large. Tell them what your business actually does and what you actually are. You are promoting your business so don't forget to put your best foot forward.
Post regularly on Google+, content such as blog posts, recent company updates, events, etc. Keeping your audience up to date, in the loop and relevant is the overall aim. Google+ software for small business is free to use but your time is not. Make sure you can allocate the time required to make it work and you will not be disappointed.
Here is Big Red Cloud's company profile for Google+, 'For business owners that want to reduce the time spent managing their accounts, Big Red Cloud provides business accounting software that is simple to setup and easy-to-use so you can spend more time running your business.'Adding a link to your website here is best practice.
As stated before, relate the content your business shares on social media to the business sector the company falls under. If you are a restaurant make sure you regularly post your menus or special events; a hairdresser, deals on blow dry and make up combos; a car salesroom, all your cars, supported with pictures and relevant details; or a builder, images of your most recent jobs. You see the pattern – be engaging and offer up relevant and newsworthy items to those people / companies that elect to follow you on Google+.
The secret behind Google+ and the + 1s.
You will be interested to know in a recent comScore analysis 18.8 billion searches were carried out online with 12.6 billion of them carried out on Google (67% of the search engine share). This gives you an idea of the sheer scale the Google search engine possesses.
Relating to this point it has been proven through research carried out by both Moz and Searchmetrics that the most correlated aspect in getting a high ranking in the Google search bar was not surprisingly the number of +1s your URL possessed.

Page authority is, and will continue to be, the most important ranking element for a page. Look at the chart – Google+1s ranked more important in Google's eyes than the number of linking root domains and Facebook likes and shares.
Therefore it is quite obvious for businesses and brands alike that having a Google+ account is very important.  Displaying regular activity on your Google+ account can greatly boost your rankings within the search engine.
An active account on Google+ for your business therefore provides more than just a social media path but also an increased ranking on the Google search bar.