While using some form of accounting software has become the norm for businesses of all sizes, it can be challenging to narrow down the best option for you and your business. Trying to find the best accounting software leads to long, technical conversations about functions and features that most businesses will never need.
Accounting software for small businesses changes the game and makes managing cash flow significantly easier. The best accounting software for small businesses will also do much more than that. From automating debtor statements to updating your nominal ledger, the top accounting software can do a lot more than simply balance the numbers.
But which is the best accounting software? There's no simple answer because it will depend on what you need it to do, the features you can't live without, and the monthly cost. So let's get the top accounting software options compared so that you can make a more informed and practical choice. 
First, let's begin with a graph summary. If you're actively looking for a QuickBooks alternative after their latest changes, or you're tired of using Sage or are unsure of the best Xero alternative, here's a quick solution before we take a deeper dive into each of the best accounting software options available to small and medium-sized businesses today.
The best accounting software compared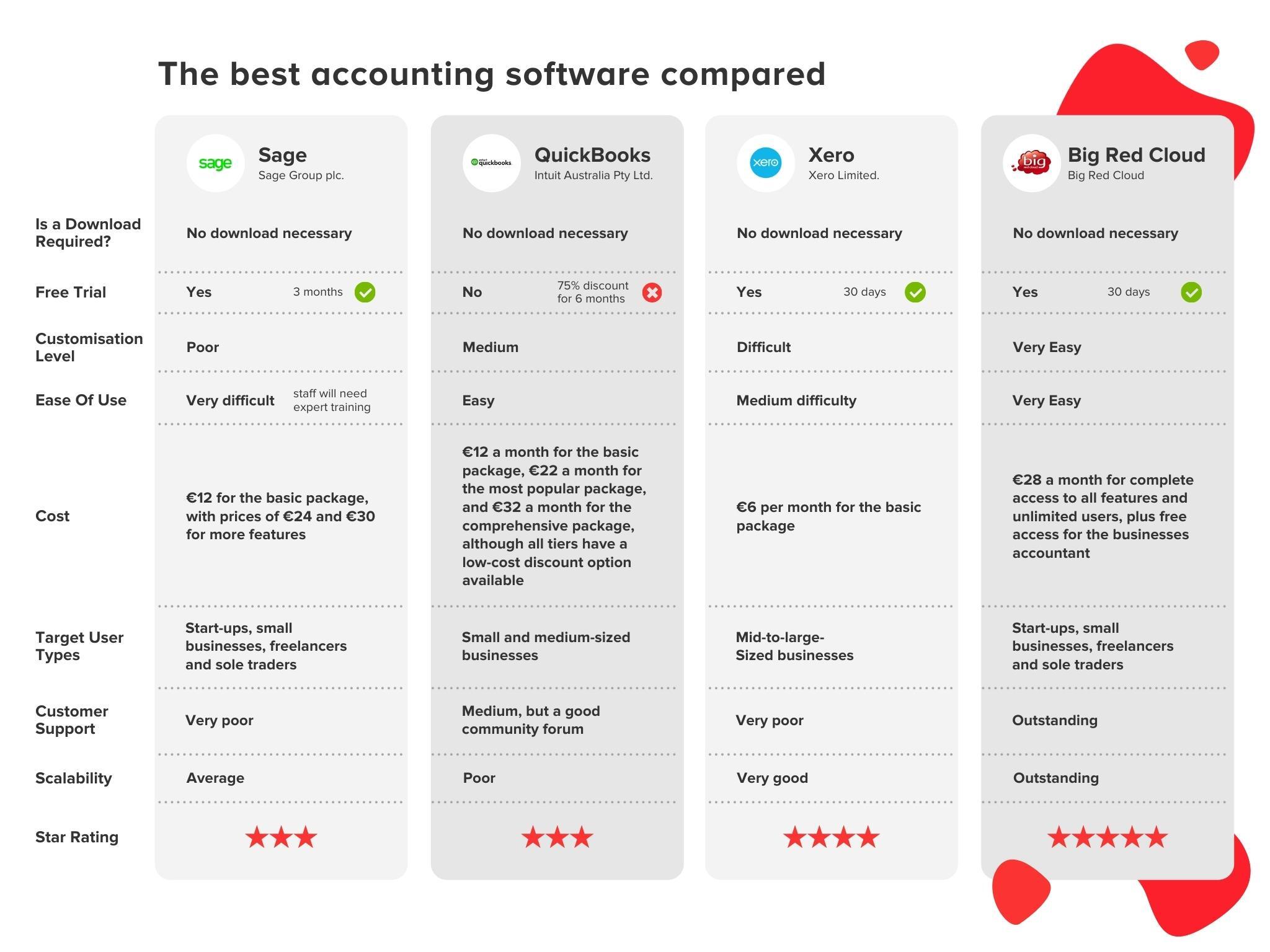 Big Red Cloud — summary
Big Red Cloud has been around for almost three decades, so they know what they're doing and what customers want from their accounting software. One of those needs is simplicity, and Big Red Cloud offers that in abundance. For small businesses, those that are scaling, and even for accountants and bookkeepers themselves, Big Red Cloud is the multi-function accounting software that comes with all of the bells and whistles you'll ever need.
Pros of Big Red Cloud
One of the reasons Big Red Cloud is such a popular accounting software is the price. Unlike the other accounting software on this list, there are no tiers to access better features. One low price gives you access to everything. Big Red Cloud's online and cloud-based accounting software also comes with:
Clean interface

Cloud-based so no download needed

Incredibly easy to use, even for beginners

Very straightforward

bank reconciliation

An incredible level of customer support

Step by step audit trail

Trouble-free

cash flow forecasting

Invoice generation takes seconds, including for recurring invoices

Integratable with other software and add-ons

Change, delete or undo information added to all finance entries

Automated debtor statements

Automated VAT reports

Easy to use nominal ledger

Customisable user permissions to control who can add information to your accounting.
It's easy to see why Big Red Cloud is fast becoming the QuickBooks, Sage, and Xero alternative of choice for SME owners. The single price makes it easier to access the features you need, and the customer support is simply unbeatable by any other accounting software product. For business owners in Ireland, in particular, Big Red Cloud is ideally suited due to being 100% Irish owned.
Cons of Big Red Cloud
It's not all great news though. Big Red Cloud does have some downsides, although they are often considered minor when it comes to comparison with the best accounting software on the market. The cons of Big Red Cloud include:
The price is higher than other accounting software, even if you do get more access to more features

Doesn't handle complex inventory management without an additional solution (although there are many available)
Big Red Cloud has come a long way since its early days as a desktop solution. The move to a cloud-based SaaS has been transformative. Now, Big Red Cloud is becoming a major player in the accounting software industry and is gaining momentum year on year. 
Best For: Business owners who want straightforward accounting software that comes with robust support.
Star Rating: ★★★★★
Sage Accounting software — summary
When most people think about accounting software, Sage is the name that comes to mind. The problem with Sage is that it has been designed more for professional accountants than small business owners. While it is possible for the beginner to start using Sage, and there are certainly some fantastic and useful features, Sage alternatives tend to be much more suited to smaller businesses.
Pros of Sage Accounting software
Before you start looking at Sage alternatives, there are some great reasons for using this popular software. These reasons might not be enough to make you switch from an easier to use option, but they certainly have their value:
Cloud-based, so no download needed

Free trial

In-depth

financial reporting

function

Great with inventory reporting

Highly customisable

Offers industry-specific features, alongside cash flow forecasting, job costing, and automated workflows

Accountants can easily switch between multiple clients

Automated invoice generation

Integratable with many third-party apps
So it's clear that Sage certainly has some great features as standard. Prices start at €12 a month, although that is for the starter package, and there is a three-month free trial available.
Cons of Sage Accounting
One of the reasons for using the best accounting software is that it can save you time and money. With Sage, the benefits don't always outweigh the pros. Here are some of the most well-known issues with Sage and the main cause for many existing users to start looking for Sage alternatives.
Difficult to set up and can take a lot of time to get used to

Users have to be experts at using Sage, so staff will need to be trained

Features can be overly complicated

The homepage is extremely cluttered and confusing

Journal Entry is extremely inefficient

Targeted more at larger businesses, and not entirely suitable for SMEs

Unhelpful customer service when you finally get through to them.
Sage Accounting software might be the name on every entrepreneur's lips when they're setting up a business for the first time, but the first time they use it is often the last. With so many easy to use Sage alternatives available, it's no wonder that SME owners are looking elsewhere.
Best For: Businesses with a dedicated accountant or a member of the team who has been trained to use Sage. 
Star Rating: ★★★
QuickBooks Accounting software — summary
One of the biggest names in small business accounting. QuickBooks has long been the preferred choice for entrepreneurs and bookkeepers alike. It comes with excellent features, including some stellar tax planning support. One of its standout features is that it's so scalable, meaning that as your business grows, QuickBooks can keep up with what you need.
Pros of QuickBooks
QuickBooks has long been seen as the top choice for accounting software for smaller businesses, largely because of its ability to scale so easily. Other positives include:
Quite easy to use

Cloud-based so no download needed

An uncluttered and clean user interface

Low cost with prices starting at €6 a month

Has all of the basics that you need from accounting software, including accounts payable/receivable,

P&L statements

, and expense tracking to name just a few

Online portal available where clients can track invoices and make payments

Excellent support network of other users via the forum

Unlimited

invoices

.
Cons of using QuickBooks
In 2022, QuickBooks announced that changes were being made to the features and products they offer. It's the sudden loss of the desktop feature that is leading so many business owners to start looking for Quickbook alternatives. As well as those changes, QuickBooks does have some disadvantages over other, more practical accounting software solutions. Those cons include:
The price jumps up the more features you need to use and can become quite expensive

No industry-specific features, including a complete lack of eCommerce tools, barcode scanning, or lot tracking

Professional support is almost non-existent, and you'll rely on other users in the forums

Only a limited number of people can access the software at once

Occasional system crashes

Lack of invoice design tools

Lack of automated backups, risking the loss of records

Can take a long time to set up

Limited integration with other systems and tools

Cannot manage high-volume inventory management

Big price jumps between pricing tiers
For years, QuickBooks has been one of the most popular accounting software products available. Over the years, its impact has slowly dwindled, and the changes to the QuickBooks desktop might just be the beginning of the end for this once mighty resource. The growing number of bigger, better, and more practical QuickBooks alternatives means that business owners should never decide without exploring all of their options.
Best For: Businesses that don't mind the lack of desktop features and who are scaling quickly.
Star Rating: ★★★
Xero Accounting Software – Summary
It's easy to overlook just how useful Xero accounting software can be. Often overshadowed by Sage and QuickBooks, Xero is slowly making gains in user numbers and it's easy to see why. The low cost alone, with the most basic package costing just €6 a month, makes it a product worth taking a closer look at. 
Pros of Xero
There are certainly some great reasons to use Xero accounting software. Even with the more expensive plans available, you won't be spending a lot of money on your accounting. Other pros include:
Very easy to use

Cloud-based, so no download needed

A designated Xero advisor

Free 30-day trial

Very clean interface

Unlimited users

Built-in payroll function

Personal expenses management

Robust updates and approval processes

Immensely scalable
Xero is growing in popularity for a reason and is expected to grow more as one of the leading QuickBooks alternatives. Xero accounting software is certainly worth taking a closer look at, but it's not all positive.
Cons of Xero
Users of Xero tend to have the same complaints about it. While it's still one of the better options for SMEs looking for new accounting software, make sure that none of the following is going to limit the value you get from your final choice:
There's a lengthy learning curve

Recent price increases have put a lot of existing users off

Built-in payroll features have been removed

Extremely basic requisition/inventory/purchase features

Even the most expensive plan is limited in the number of expense claims and projects available

Lack of multi-currency support

There's no Debtor Chasing feature, meaning users have to manually track unpaid invoices

No ETPs (Exchange-traded products)

Very slow for eCommerce brands and PayPal users

Incredibly poor customer support, and even when you do get in contact with an advisor they can be extremely unhelpful
So while Xero is one of the most well-known accounting software products, it's not without its flaws. Don't be tempted by the low price if you're going to struggle to access the features that you specifically need. Xero is a great all-rounder, but when it comes to eCommerce and online payments, it falls off a cliff quite suddenly. So check out Xero alternatives before you make a final decision.
Best For – Business owners who are prepared to spend time learning how to use their accounting software and don't mind being limited to just accounting basics.
Star Rating: ★★★★
Summary of Accounting Software Compared
As business owners are looking for QuickBooks alternatives or replacements for overly complex accounting systems like Sage and Xero, Big Red Cloud is fast becoming the financial must-have for businesses of all industries and sizes. Its ease of use combined with the one set price makes it a resource to rely on, even as you scale your business.
If you're looking for new accounting software, don't just take our word for it. Always remember to check what features you need for your accounting, and don't just choose an accounting software based on what you think is the most popular. Some of the biggest names in accounting software come with stumbling blocks that limit their potential when it comes to your unique business model.
And if you're still not sure, why not give your shortlist a try before you commit to buying anything? All of the above accounting software products offer a free trial, so it's worth getting hands-on with at least a couple. Just bear in mind that the more complex the software, the harder it will be to get used to, and tools like Sage have an extremely long learning curve that is usually best left to dedicated Sage experts.
Whichever accounting software you opt for, match your needs with the available features at the price point that won't break your budget. When it comes to accounting software, almost anything is better than doing everything on an Excel spreadsheet.