Big Red Cloud has been announced as a finalist in the inaugural Guaranteed Irish Business Awards 2022. The Guaranteed Irish symbol has been helping Irish consumers and businesses to identify the best products and services across Ireland since 1974.
The team at Big Red Cloud is absolutely delighted to be included in the Technology Category that's being sponsored by ESW, the DTC global commerce specialists. With the nomination in the Guaranteed Irish Business Awards 2022, Big Red Cloud is proudly highlighted as a recipient of the Guaranteed Irish symbol, long seen as a sign that a company provides quality jobs in Ireland while supporting local communities and being committed to Irish provenance.
With this nomination, Big Red Cloud has only reinforced its longstanding commitment to local businesses. The CEO of Big Red Cloud, Marc O'Dwyer, said, "We are a 100% Irish-owned business supporting over 75,000 businesses here in Ireland for the past 28 years. We have specifically dedicated our software to ensure life is easier for Irish business owners and accountants, making sure it is fully compliant with all Irish revenue regulations. We have always been supported by Irish people, and over those 28 years, we have employed hundreds of staff."
The inaugural Guaranteed Irish Business Awards
The awards ceremony for the inaugural Guaranteed Irish Business Awards 2022 will take place on the 24th of March at The Shelbourne Hotel. The event will be a celebration of the leading businesses in Ireland, with a focus on those that are committed to servicing local communities and who contribute to the growth of Ireland.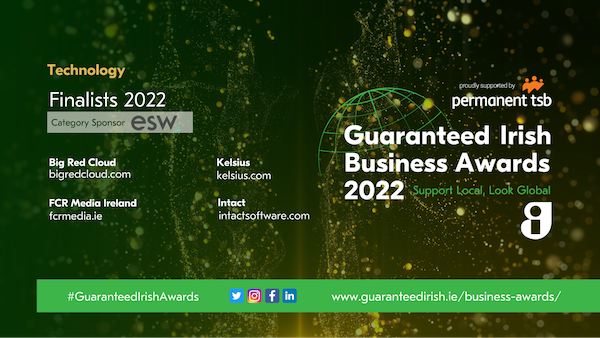 The event is the first-ever business awards event by Guaranteed Irish and will be hosted by business broadcaster Richard Curran from RTE. Over the course of the ceremony, Irish businesses will be recognised and rewarded for their success and resilience across multiple categories.
The finalists in each category have been shortlisted by an independent panel of Irish industry leaders from across multiple sectors, with recognisable names like Matheson, KPMG, MSD Ireland, Musgrave, Bord Bia, Chopped, SOSV, Permanent TSB, IPHA, ESW, RIAI and Blacknight.
Brid O'Connell, the CEO of Guaranteed Irish, said, "The calibre of entries for our first-ever awards was exceptional. The awards will recognise and celebrate the very best of local and international businesses that are registered in Ireland which support jobs, contribute to our communities and showcase Irish provenance with pride. The time has come to celebrate the businesses in Ireland that genuinely strive to do the right thing, and Guaranteed Irish is proud to champion those that are All Together Better."
Championing Irish businesses
Speaking to the announcement, Patrick Farrell, Director of Retail Banking at Permanent TSB, said, "Permanent TSB is proud to support the inaugural Guaranteed Irish Business Awards, celebrating the very best in Irish business while recognising the resilience, determination and innovation that has been shown by so many in what has been a challenging year. I would like to extend my warmest congratulations to each of this year's finalists. We look forward to celebrating everything that you have achieved at the awards ceremony on the 24th of March.''
The team at Big Red Cloud are thrilled to be nominated as finalists in the Guaranteed Irish Business Awards 2022 and are excitedly looking forward to the event.