What Are the Ten Types of Innovation?
"Innovation almost never fails due to a lack of creativity. It's almost always because of a lack of discipline." So say the team at the innovation firm Doblin who are the creators of the Ten Types of Innovation framework. They argue that the solution is to look beyond new product innovation and to include, where possible, nine other types of innovation that, when combined, are proven to deliver sustainable competitive advantage.
The Ten Types of Innovation framework results from an exhaustive study of more than 2,000 successful innovations, including new ways of working by
Google

Lego

McDonald's

Amazon

Microsoft

Cirque du Soleil

Ford Model-T, and thousands more.
The result is a new framework that uncovers the ten innovative concepts that innovators successfully deploy.
Exploring the Ten Types of Innovation
Where The Ten Types of Innovation excels is that its research highlights those patterns of innovation that have been successful within a wide range of industries. Not only that, the research shows that companies can identify innovation opportunities and evaluate how they are performing against competitors.
The authors applied a proprietary algorithm that determined the ten meaningful groupings — the Ten Types of Innovation — need not concern us. What's important is that the framework can be applied to your business today to begin the innovation process and unlock new growth opportunities. 
Whether that's investing in new blood on your established teams to shake things up or to take more control over your brand messages, innovation is no longer a nice-to-have. It's a must-have.
Let's take a look at the Ten Types of Innovation framework.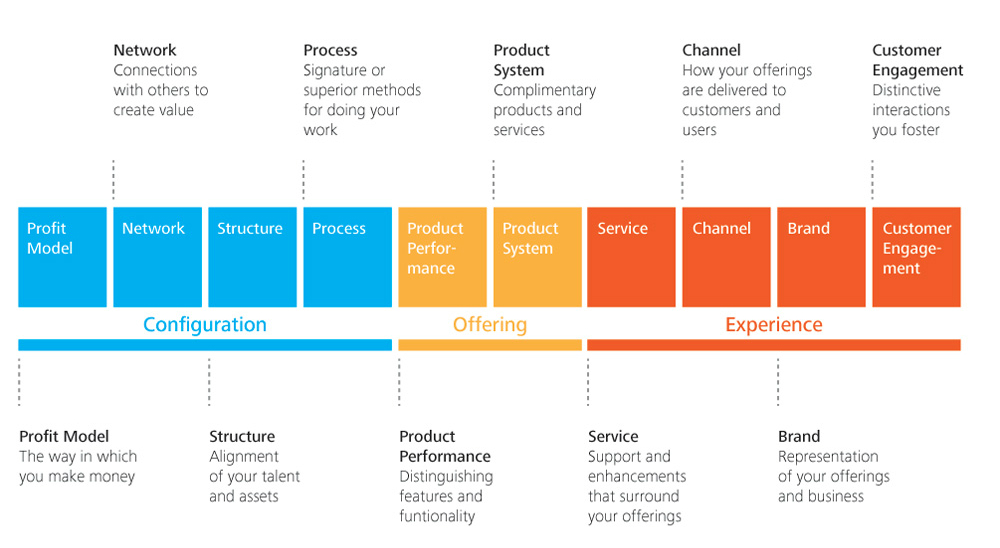 The following table lists examples of each type of innovation and the tactics used to successfully execute each one.
| | | |
| --- | --- | --- |
| Innovation Type | Examples | Tactics  |
| Product | Corning (tough thin glass) | New functionality, ease of use, customisation, performance, safety, style, environmental sensitivity |
| Product system | Microsoft (Office), Mozilla (Firefox) | Complements, extensions, plug-ins, modular system, bundling, software platforms |
| Service | 7-Eleven (Japan: bill payment), Zappos (customer-centric culture) | Loyalty programs, self-service, concierge, experience management, try before you buy, guarantees |
| Channel | M-Pesa (mobile payment), Amazon (Kindle), Nike (stores), Nespresso (stores, clubs) | Go-direct, cross-selling, diversification, flagship stores, multi-level marketing, non-traditional channels |
| Brand | Virgin ('fun' companies), Intel (Inside), Trader Joe's (destination labels) | Brand extension/leverage, co-branding, certification, private label, transparency, values alignment |
| Customer engagement | Apple (annual conference), FourSquare ('mayorships'), Blizzard (World of WarCraft) | Community, personalisation, status, experience simplification, curation, autonomy |
| Process | Zara (apparel design), Hindustan Lever (sachets), Zipcar (rentals), Toyota (Lean), Ikea (flat-packs) | Crowdsourcing, lean production, IP, localisation, on-demand production, predictive analytics, process automation, standardisation, user involvement |
| Structure | FabIndia (local community ownership), Southwest Airlines (only one type of aircraft) | Competency centre, corporate university, decentralised management, incentives, IT integration, knowledge management, outsourcing, organisational design |
| Profit model | Gillette (stick + blades), Hilti (power tools on loan), Schibsted Media (freemium classifieds) | Ad-supported, auction, bundling, low cost, financing, freemium, licensing, membership, microbilling, forced scarcity, risk-sharing, switchboard |
| Network | GlaxoSmithKline (co-innovation), Natura (research network with universities) | Alliances, coopetition, M&A, open innovation, supply chain integration, franchising |
Thanks to Madanmohan Rao, research director at YourStory Media for the examples.
It's clear that in recent years, businesses have had little choice but to embrace different types of innovation. The move to working from home alone has been a significant shift in the business landscape. To embrace innovation means to be quicker to adapt to industry changes or even global disruption. 
Everything from supply chain continuity to the way brands interact and engage with their customers can be viewed from the perspective of innovation. The traditional saying of "we've always done it this way" is no longer acceptable in the modern business climate. Innovation, evolution, and the monitoring of freshly implemented ideas are more critical than they've ever been.
Start Using the Ten Types of Innovation for Your Business 
Innovation affects everyone. It can begin in an adjacent vertical and quickly spill over into your sector. ​Online accounting software is a great example that had a massive impact on those traditional businesses that used to print journals and ledgers for business owners and accountants. In a short space of time, their market evaporated as businesses and accountants moved all their business accounting requirements to online software. It was a similar story for the whip maker who looked at the Model-T and never saw the automobile as a threat.
Creativity and the discipline to drive innovation is neatly captured in the Ten Types of Innovation framework. Have a read of the full breakdown of the Ten Types of Innovation designed by Doblin.
No matter what industry you're in or the size of your business, plan to put time aside and use the framework to brainstorm ideas for your business. You won't be disappointed!