To open the Cash Book click on the Cash Book icon.
The Cash Book is displayed, the month tab selected will be for the current month if applicable in the accounting software.
Cash Receipts are recorded on the left under the heading CASH IN.  Cash Payments are on the right under the heading CASH OUT.  There is a dividing line between the two.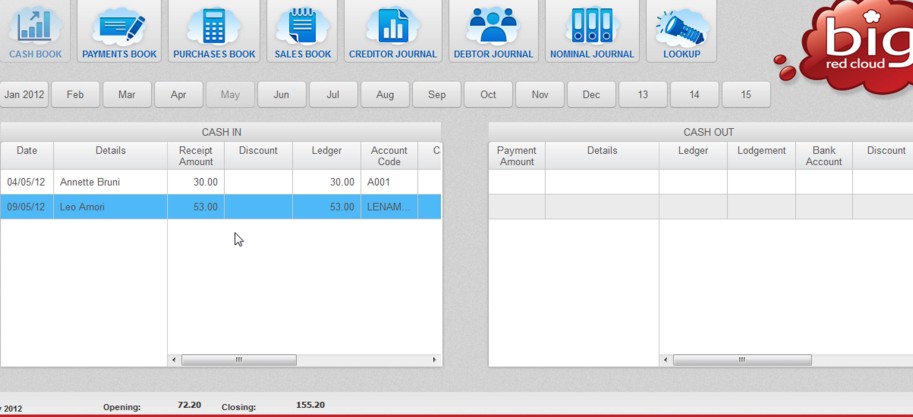 The Date in the 'CASH IN' panel applies to Receipts and Payments in the accounting software.
All the column headings (Date, Details, etc.) including your own titles for the Analysis Categories which, in Cash Receipts, begin to display after the Ref column. The scroll bar at the bottom of each panel will allow you to see the other column headings.
The arrow keys pointing up and down on the keyboard will allow you to scroll up and down in the Cash Receipts book to see earlier entries.
Each horizontal line represents one transaction; the currently selected transaction (Receipt or Payment) is high-lighted.
Note: In the Cash Book all entries are stored and displayed in transaction date sequence.
'Cash', in the bookkeeping sense, does not refer exclusively to notes and coins. Customers' cheques, postal orders and direct debits etc. are all Cash Receipts and should be treated as such.  However, not all payments are treated as Cash Payments, e.g. when you make a payment by cheque or direct debit etc. then you would enter the transaction in the Bank Payments Book rather than through the Cash Payments Book.
Cash Book Balances.
When the Cash Book is open you will notice a number of figures in the grey area above the buttons near the foot of the screen.  These figures are important as they provide a link between your Cash Receipt and Cash Payment entries and an understanding of what they represent is the key to ensuring that your Cash Book balance is correct.
All the figures on display relate exclusively to the month you are in, which is identified on the left.  The opening and closing cash balances for that month are then shown.  The closing balance represents the opening balance (as shown) plus all the Cash Receipts and less all the Cash Payments for that month.  Therefore, if the month you are viewing is the current month and all your transactions are up-to-date and correct, this closing balances should equal the amount of cash-on-hand.
You should check on a regular basis that the current closing balance is correct.  If the balance shown does not equal the amount of cash-on-hand, check the following:
Have all the entries been made correctly?
Have you entered all relevant transactions?
To assist you in keeping a balanced Cash Book you should use the Cash Book Totals Report or the Cash Book Daily Summary which display daily/monthly summaries of Receipts and Payments, with opening and closing balances.