The Products Listing can be accessed from the Setup menu or from the Lookup screen Products tab.

To Add a Product click on the Add button to display the following screen: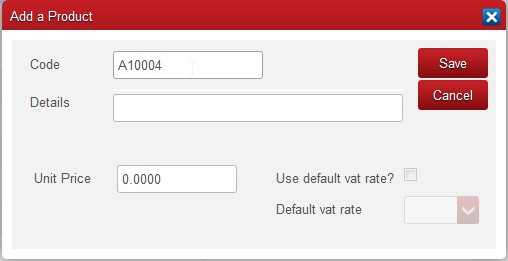 Notes on Setting Up Product Codes.
Code.
This is a unique code up to 15 characters long, consisting of all numbers, all letters or a combination of both.  Whether or not these Product Codes appear on your printed Invoices depends on which Invoice Layout you choose.  For example, an Accountant may wish to set up a code ACC1 with a description "For professional services in preparing year end accounts" etc.  When creating an invoice he/she will want to use the feature to retrieve the standard description and fee, but not have the code ACC1 printed on the Invoice.
The Product Code cannot be changed in the accounting software.
Details.
Enter up to 8 lines of text to describe the Product or Service to be associated with this Product Code.  This information will be printed on Invoices when you select this code from the Products File in the accounting software.
Unit Price.
This is the price per unit of this Product or Service.
Use Default VAT Rate?
Tick to always use the VAT rate given for this product.  If this is not ticked the system default VAT Rate as selected in Setup / VAT Rates will be the one assigned by default.
Default VAT Rate.
If a default VAT rate is to be used it is entered here, this entry is ignored if 'Use default VAT rate?' is not ticked.