A Control Account is a Nominal Account which is updated with the total of all the transactions to a ledger or bank account.
A default set of Control Accounts are setup with accounts from the default Chart of Accounts.  The Debtors and Creditors Control Accounts cannot be changed once transactions have been entered into Big Red Cloud.
If you wish to assign different Nominal Accounts to the Control Accounts you can do so in Setup / Control Accounts.
A Control Account is a record in total of all the amounts entered in detail to the individual accounts of other ledgers. As an integral part of a Nominal Ledger the Control Accounts item only appears on the Setup menu when the Nominal is On.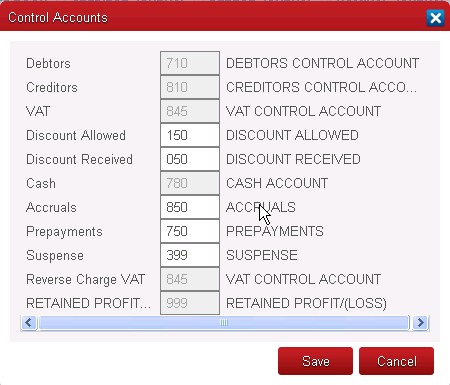 There are 11 Control Accounts within the Big Red Cloud's Nominal Ledger as above.
If you do not intend to use the default Control Accounts you should now assign your own using the procedure described below.
Assigning A Nominal Account As A Control Account.
Postings to Control Accounts are made automatically by the program upon a transaction being Saved.  Except for the VAT Control Account you cannot post directly to a Control Account.
When Control Account has had one or more entries posted to it, its icon will disappear off the Control Accounts list and its Nominal Account Code (shown in the box alongside) will grey out.  At this point it cannot be changed.
Changes to some Control Accounts can usually be made after you have run the Financial Year End Procedure and before you have entered any transactions for the new-year.  This is possible because there will not be any transactions in the system at that point.  However, this will not be true if you are using the Months 13/14/15 facility by which you can enter transactions for the new-year before closing off the old one.
To change a Control Account click on the box of the code you wish to change and enter the Nominal Account or click on arrow to the right of the field bring up a list of Nominal Accounts to select from.