Now that you have signed up for your Big Red Cloud trial account, it's time to create your company so that you can start using our online accounting software.
When you sign in, a pop up box will prompt you to create your company: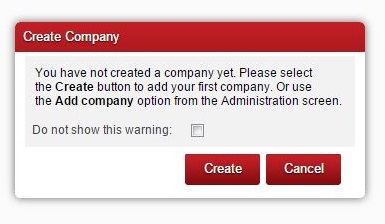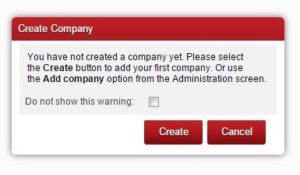 Please click Create and you will be asked to fill in the following details in order to set up your company: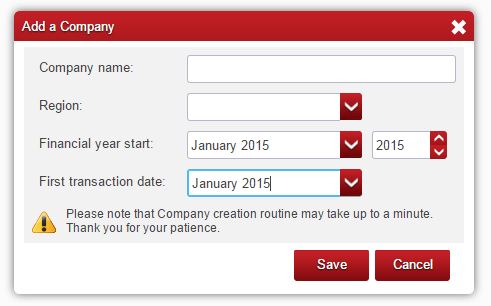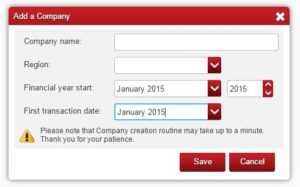 Company Name: Enter the name of the company that this set of financial records are for.
You have already provided a business name when signing up so why do you need to now enter a company name? Big Reg Red Cloud allows you to set up and mange multiple companies through one account, so we need you to enter this one more time.
Region:
Selecting UK will apply United Kingdom VAT schemes while selecting Ireland will apply Irish VAT schemes.
Financial Year Start:
An accounting period can start in any month of the year but has twelve consecutive months at the end of which account books are closed, profit or loss is computed, and financial reports are prepared for filing. It may or may not match a calendar year. ie: Company formed and registered with CRO & ROS in July, will have a financial year running from July to June of the next year.
Unsure about when your financial year should start? Your accountant might be able to help.
First Transaction Date:
The month you will enter your earliest dated transaction for the current financial year into Big Red Cloud, such as an invoice, payment or receipt.
Note: The first transaction date should be the month to which the opening balances relate.
Unsure about your first transaction start date? Your accountant may be able to help.
–
Once your company is created it's time to start using Big Red Cloud. Take a look at our guide to getting started for more details.
–
If you don't want to set your company up at this time, you can do so later by navigating to the Administration tab and selecting Add Company in the bottom left corner.