Purchase Importer
Big Red PI allows you to import your purchase/supplier invoices (in PDF Format) into Big Red Cloud. This is an Add-On. You can contact us on 012048300 to purchase it.
Big Red PI allows you to:

Import the invoice into Big Red PI via Email OR Upload.
Then you can import the invoice from Big Red PI into Big Red Cloud.
ACCESSING BIG RED PI
Log into your Big Red Cloud. Click 'Applications' (along the top of the screen). Click 'Big Red PI' (This should bring up your Big Red PI page).

SETTINGS
Once the Big Red PI page opens for the first time, click 'SETTINGS' (along the top left) and click 'Company VAT Elimination'. Here you can enter some of your company's details and click 'Update'. The purpose is that when importing an invoice, and if those details are on it, Big Red PI would recognise them as yours and not the supplier's company details.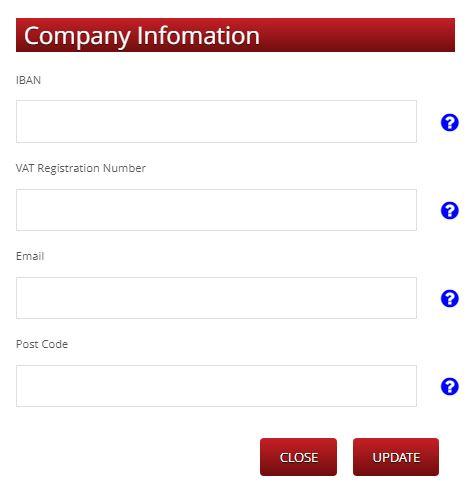 This is also a 'Logout' button in 'SETTINGS'. It's important that if you have Big Red PI for more than one of your companies, that you click 'Logout' before you open Big Red Pi in another of your companies.

IMPORTING INVOICES TO BIG RED PI
There are two options for importing invoices into Big Red PI: Email OR Upload. With either option there it might take a few minutes before the invoice shows in Big Red PI.
EMAIL OPTION (A)
Send or forward an email with the invoice attached to your Big Red PI email address (you will be able to choose your Big Red PI email address when your Big Red PI is being setup).
OR ask your supplier to email it to your Big Red PI Email Address.
UPLOAD OPTION (B)
Click 'Upload' (on the top left) in Big Red PI.

Drag the invoice you want to Upload into the 'Drag Files Here' box.
There is a 'Split Pages' section (red wheel). If you are Uploading a single PDF file that contains multiple invoices (e.g., pages 1 and 2 might belong the first invoice, pages 3 might belong to the second invoice), it will split the PDF into individual pages and it will allow you to re-join them (once they are in Big Red PI) if necessary.
Click 'Send for Processing' to import the Upload invoice to Big Red PI.


CHECKING THE DETAILS
It is important that after you have Emailed/Uploaded an invoice into Big Red PI that you check whether the invoice details are there and correct in Big Red PI, and you can change them if necessary, before importing the invoice to Big Red Cloud.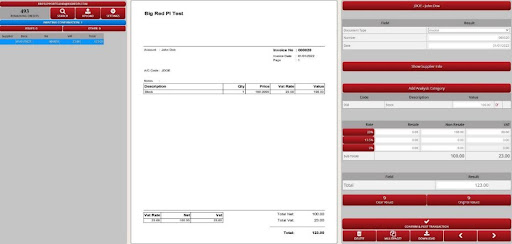 On the Left 'AWAITING CONFIRMATION' shows the invoices in Big Red PI waiting to be imported to Big Red Cloud. it allows you there to scroll through them. It's important to also check the 'ISSUES' and 'OTHER' sections to see if any invoices show in there. Note that there is also a 'SEARCH' option there which allows you to search for invoices in Big Red PI.

With this example Big Red PI didn't pick up the details of the invoice, and we will select the details of the invoice. This is done on the right-hand side. Click 'Select Supplier' (on the right)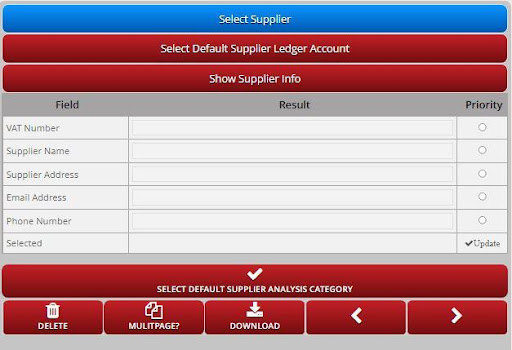 Choose the supplier by ticking the tick beside the relevant supplier (you can search for the supplier in the by code, email, name etc. There is also a tick box 'Resale Tax Codes', with that ticked it will assume the supplier in future is Purchases for Resale (rather than Purchases Not For Resale). You can untick that box if you want them set as Purchases Not for Resale instead in Big Red PI.
Next, you can click 'Select Default Supplier Ledger Account'.
Then click 'Show Supplier Info' which allows to choose a detail of the supplier to help Big Red PI recognise that supplier on future invoices from that supplier.
Check if the document type is correct i.e., Invoice OR Credit Note, and check if the Invoice Number and Date are correct. You can change the details there if necessary.

Click 'Add Analysis Category' to select (tick on the left) the relevant Analysis Category.

Check if the values are correct. If they are not, it allows you to change them.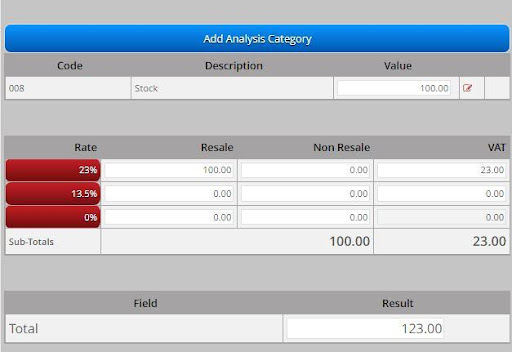 There is an option to 'DELETE' the invoice in Big Red PI, if it was imported to Big Red PI in error.
There is a 'DOWNLOAD' button if you want to download the invoice.
There is also a 'MULTIPAGE' button which allow the re-joining of pages on a multiple invoice PDF file.
Once you are happy with all the details, click 'CONFIRM & POST TRANSACTION' to import the invoice to Big Red Cloud. It should either give a message indicating it has imported it or that there was an error. Once the invoice has be imported to Big Red Cloud, it will show as a Purchase Book Entry in the Purchases Book.