To make a direct adjustment to the balances on some Nominal Accounts without making an entry in the day books a Nominal Journal entry can be made.  The type of adjustments usually made in this way are:
Entering Opening Balances – note – these should NOT be entered for Control Accounts.
Posting Accruals and Prepayments.
Entering Depreciations and Provisions.
Re-valuing the Balance Sheet in line with Goodwill, Capital Appreciation/Depreciation, Stock Losses/Gains etc.
Re-posting SUNDRY entries into their true account destinations.
Correcting  postings wrongly analysed.
To Make A Nominal Journal Adjustment:
Click on the Nominal Journal icon

or from the top menu select Books / Journal Adjustment / Nominal Journals.
Select Journals, then Add.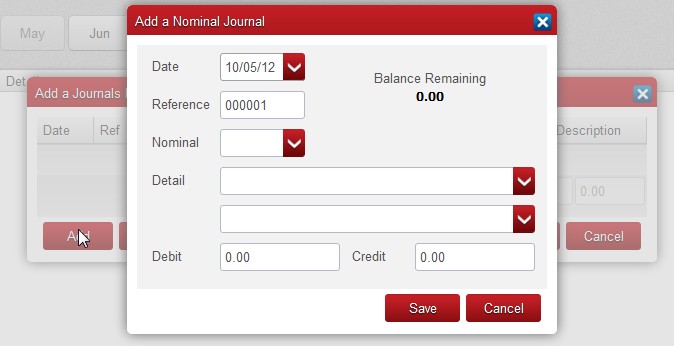 Journal Adjustments.
Click on Journals to enter Journal Adjustments.
Journals are entered in batches and the Debits and Credits must balance before a batch can be saved.
Adjustments cannot be made to Control Accounts other than the Vat Control Account.
Accruals And Prepayments.
All Accruals and Prepayments automatically reverse in the subsequent month.
The Copy function can be used to copy batches to other months.
When using the Journals function to make an entry which you will subsequently want to reverse, e.g. to record Opening and Closing Stock Balances for a period, then you should confine such an entry to its own batch.  Having then provided yourself with the relevant reports, you should delete that batch when you reach the subsequent period.